The Seaside Heights boardwalk is the main attraction. Seaside Heights Motels Hotels and Accommodations Seaside Heights Motels During the winter months you will find arcades, and pubs open. There is a calm and casual atmosphere. Some Seaside Heights boardwalk attractions may be open depending on the weather.

In the summer months, Seaside Heights NJ has everything open and geared for the crowds. The Seaside Heights boardwalk consists of many wheels of chance where prizes range from small stuffed animals to TV's, bicycles, and scooters. Children and adults alike always have a great time!

Aroma from the many pizza shops, sausage stands, and cotton candy machines tempt every body's taste buds-including the Seagulls! While staying at the Glendale motel in Seaside Heights consider Point Pleasant Boardwalk or Six Flags New Jersey Great Adventure.
Breakwater Beach - Breakwater Beach is a state-of-the-art water park with one of the largest interactive play area on the North Atlantic Coast. The renovation of "Jenkinson's Breakwater Beach Waterpark at Casino Pier" (Formally Water Works) offers our customers a fun and exciting family attraction.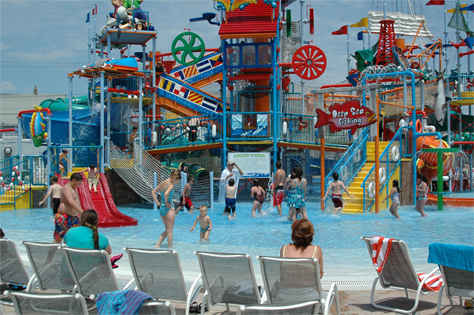 Beach Info - Beach description and access to the shore
Boardwalk - Visit the famous Seaside Heights Boardwalk!  Includes description and visitor information
Event Schedule - Find out what's happening on YOUR next visit to Seaside Heights!
Fishing - Fishing information covering the bay and ocean waters
Message Boards - Message board providing a forum for visitors.
Nearby - Attractions nearby the Seaside Heights area
Transportation- Transportation to and from Seaside Heights, NJ!
Point Pleasant Beach- Visit our sister site at www.pointpleasantbeach.com!